Varsity Football Player Injured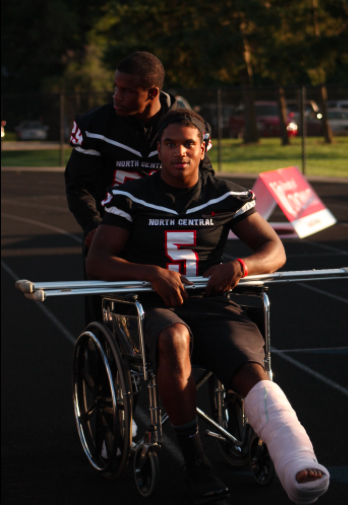 After playing football ever since fifth grade, on Friday August 19 Walter Haire had a season ending injury.
"They said I broke my fibula, they said I am going to need surgery and rehab," Haire said.
Haire was accepted into many schools and has received scholarships from these schools.
"I got letters from IU, Bowling Green, Ball State, Northern Illinois, Cincinnati, Toledo, Virginia, and Minnesota." Haire said.
Haire will be attending Bowling Green University in the fall of 2017. After his injury, Haire discussed his future with Bowling Green.
"They said it's cool," Haire said. "They want me to still work hard at my rehab and hurry up and get to them. The recovery was about three months and this one is about the same."
Haire was a great asset to the team in many ways.
"Losing Walter  took a big toll on us because we lost a teammate, a team leader, and most of the guys look up to him," teammate Alin Jones junior said.
Haire helped the team on and off the field.
"One thing that we lost with Walter was his production on the field, his leadership, and his experience has been lost. Walter is a three year starter. He also played as a freshman on special teams. So just his experience he has is definitely impacting us," Kevin Kreinhagen said.
Even with Haire being injured he still supports his team and helps out when he can.
"Walter has continued to be a good leader off the field helping the defensive line with individual play, and film breakdown" Kreinhagen said.
Even before his injury, Haire led the team by example. Some players feel that the team's performance will be negatively impacted without his presence on the field.
"He is one of our captains, and he also brought that energy that we will probably lose," Darius Oakley said. "He brought a lot of energy to the locker room and the game, which kind of pumped us up."
Haire wants to see the team still go strong and succeed.
"The team is going to keep going strong, we are going to get a win this year." Haire said.