Performing arts department conducts showcase event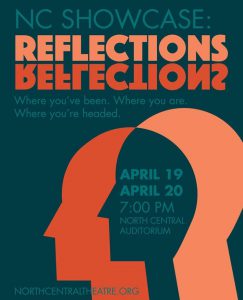 On April 19 and 20 at 7 p.m., the Performing Arts Department is putting on a showcase called "Reflections". This will be the first year for the performance and it includes songs, scenes, monologues, dances and more. All of the performances are from different shows, musicals and plays that have to do with reflecting on the past, present and future.
The showcase will be an hour and a half and the cost is eight dollars for students and ten dollars for adults. The students performing all had to audition to be in the showcase so the audience will seeing the best of the best.
"People should come to the showcase because they're getting a chance to see some of the best, most talented people at North Central in their element," junior Eva Scherrer said, "Mr. Shewell and Mr. Raunick picked pieces specifically for each performer to showcase their unique talents, so everyone in the show will really display the best of the their abilities."
It will contain some mature, serious and funny content.
The showcase allows other performances to take the spotlight. "I'm personally most excited for the opportunity for performers who aren't normally the center of the attention to be able to show how incredibly talented they are with the help of iconic songs and powerful scenes," Scherrer said.