Kazoo Ensemble Gains Popularity Among Students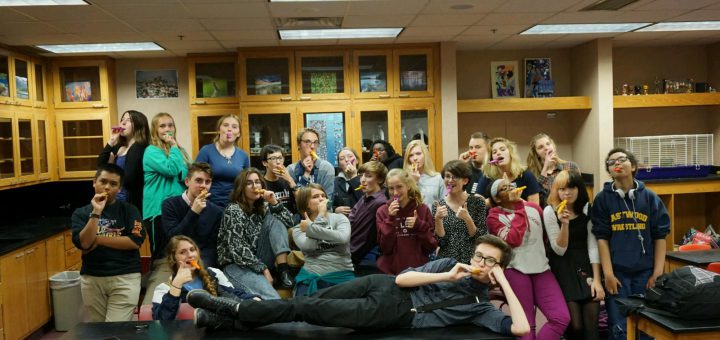 Sophomore Nicholas Jager, created a new club called Kazoo Ensemble. At first, the club was seen as a joke and students were skeptical. The club is open to everyone and embraces those with questions.
The ensemble almost began randomly and out of pure interest.
"It started as a joke. I saw so many funny things about kazoos. Then I started asking around and people were actually entertaining this heavenly revelation of musical extravagance that I proposed, and so I spent three weeks looking for a sponsor," Jaeger said.
Jaeger eventually found a sponsor in teacher Matthew Skaggs, whose views changed after hearing the pitch from the students starting the ensemble.
"When I heard the word 'Kazoo,' my first reaction was, 'uh oh, this may not work.' After they pitched the full idea to me, I was hooked," Skaggs later added, "They were so thorough in their planning that they explained how they wanted the meetings to run and that they wanted this to be more than a club; a community."
Each meeting presents the same routine for the ensemble. Students, such as sophomore Katherine Cottingham, attend Kazoo Ensemble because they not only enjoy the music, but the people around the club as well.
"We're working on a few songs and hopefully will be able to create something of our own soon," Cottingham said.
The club is making a conscious effort in order to reach out into the community and leave a lasting impact.
"We always spend time talking about club plans and activities, followed by at least 20 minutes of listening to music and playing our own kazoo cover of the tines, and ending with at least 10 minutes of storyboarding Kazoosical the Musical, which we perform in the late spring," Jaeger said.
Currently, the club is working hard on a few songs that are keeping club morale high and attendance records rising.
"Right now specifically we are learning Bohemian Phapsody by Queen and working on designating parts to the song. That along with Kazoosical the Musical gives the club a full plate we are happy to gorge on," Jaegar said.
"After observing our first few meetings, I think the Ensemble has amazing potential to be a sought-after experience at North Central. It's full of fun students that are working toward common goals. It's not just about playing Kazoos and then going home," Skaggs said.
On top of the hard work, one of the main goals of the club is creating an atmosphere of laughter and friendship.
"I like Kazoo Ensemble because it's virtually impossible to be part of the experience and not laugh or have a good time," Skaggs said.
This ideology goes all the way up to the top of the club and it's clear the club's leadership is working hard to achieve their goals.
"It's a very personal and communal club where the members make the decisions through voting and discussion. Truly, the people are what make the club great. The people we have come to the club are always fun and entertaining, bringing so much fun to the meetings. Without our members, we would be just a couple of dudes tooting our kazoos. Kazoo ensemble is a place where people can have fun, relax, and just embrace an innocent silliness completely detached from the woes that come from stressing about overwhelming amounts of work. That is what I see Kazoo Ensemble as, and that's what I want to get out of it. As long we can make the day of at least one person through comedy and joy, then our job is done," Jaeger said.
For the members of Kazoo Ensemble, it's a fun and easy bonding experience.
"I like it because it's a unique club and anyone is able to participate. If you can hum then you can play the kazoo. It's just such a great club with fantastic people. I just like being around them," Cottingham said.

Kazoo ensemble meets every other Thursday and is welcomes new students.
"We have freshman through seniors so it's a diverse group. If you go to Kazoo Ensemble, you can always expect a lit time," Jaeger said.