Job Fair: Victoria Koehl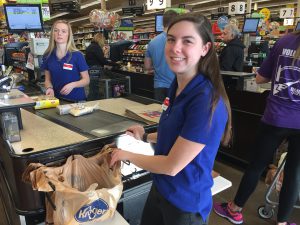 Junior Victoria Koehl has been working at Kroger in Carmel for three months. Her responsibilities are at the checkout line.
"I usually work as cashier, but sometimes they put me at bag," Koehl said.
Since Koehl is 17 there are some limitations she faces ringing items up, including alcohol.
"I can't scan alcohol so it makes the customers frustrated," she said.
Although customers can sometimes become frustrated, Koehl says that she enjoys come into contact with new customers each day.
"I love getting to meet new people," she said.
She also said that she wanted the job to start earning money and learn about working.
"I wanted to make money and learn new skills," Koehl said.