Fun Ways to Review for Finals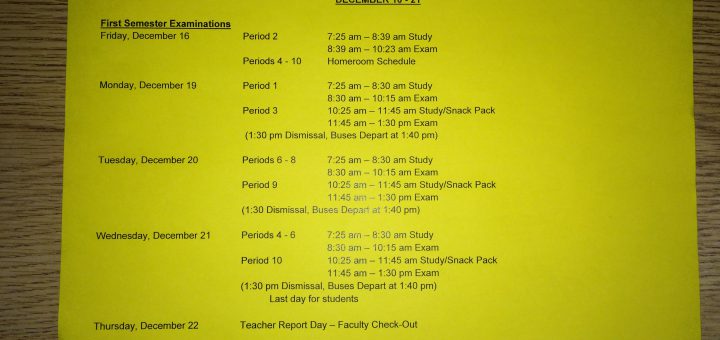 Teachers and students frantically prepare for final exams. Each exam is worth 20 percent of a student's grade.
Teachers have found fun ways to review.
"I collect worksheets and things that we have done the whole year, and then I will set up stations for each section that we have studied for each unit and they will have their notes and review packets. That way the students can go around the room to which they need the most help with and ask questions," Jacquelyn Tschudy said.
Students also use their own methods when studying for their final exams.
"I study the best by making flashcards. I really like when teachers give study guides because I know exactly what to make flashcards on and I can study countless times," sophomore Sophie Kovalon said.
"The biggest way that I do is I do a lot of kahoots. I actually did not know about them before I came here, but I did hear some teachers are giving out extra credit to students who make their own kahoot for other students," teacher Adrienne Bell said.
Many students enjoy using Kahoot to review any material throughout the year. Teachers go online and make questions. Then, they are sent a code, which students enter on their phone; they compete with their classmates for points by answering the questions.
"Kahoot is really fun because I know what I need to study after, and it tells you the answer after each question… The teacher sometimes goes over what the answer is. Also, there is fun music, and it motivates me to study after I play," junior Grace Lee said.
"I think they like that they can use their phones and that it's also a competition. I think that is what makes it fun for them, and they want to engage. And for me, I like it because they are doing the problems and the work," Bell said.
"They can see right away who is at the top, and it's that competition and seeing after every single question who is winning," Tschudy said.
Every teacher is different, but all teachers promote studying intensely for finals to get good grades. Also, studying inside school is not enough; studying must be done at home or with friends.
"[Students] need to think about how do they learn best. They need to think about which ways they remember facts the most, so they can rewrite notes if that helps them or listen to me speak the notes," Tschudy said.
"I normally give them extra problems and tell my students to watch videos and look up ways to solve problems. Specifically in math, it is all practice practice practice. For students, it is best for a blank review to go into it blind," Bell said.
"I just want to do well on finals," Kovalon said, "I want them to be over with, and they haven't even started."
The first final exam is Friday, and they continue through next Wednesday.